Research Interests
Nineteenth- and twentieth-century French literature
Gender and sexuality studies
Québec and francophone literatures
Literary theory, translation studies
Marcel Proust
Research Description
My book Victims of the Book: Reading and Masculinity in Fin-de-Siècle France (forthcoming from University of Toronto Press) shows how, in a cultural context of perceived national decline and contentious educational reforms, the adolescent male reader became a subject of grave social concern in fin-de-siècle France. This project was awarded a research fellowship from the National Endowment for the Humanities.
I am a member of the Proust research team (Équipe Proust) at ITEM, the Institute for Modern Texts and Manuscripts, Paris (Institut des textes et manuscrits modernes, CNRS/ENS).
I am Associate Editor of Corr-Proust, the new digital edition of Marcel Proust's correspondence, an international collaborative project bringing together the University of Ilinois, ITEM, and the Université Grenoble Alpes.
Education
PhD, Harvard University
BA, McGill University (First-Class Honours)
Courses Taught
French 211: Introduction to Literary Studies
French 311: Love Stories
French 322: World Literature in French
French 336: French Cultural History 1789-1968
French 443: Quebec Literature and Film
French 574: Reading in the 19th-Century French Novel
French 578: Marcel Proust
French 579: French Literature meets Queer Theory
Additional Campus Affiliations
Highlighted Publications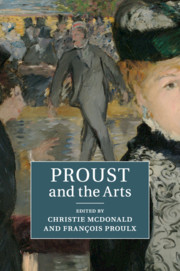 Proust and the Arts (Cambridge University Press, 2015; paperback, 2018) brings together expert Proustians and renowned interdisciplinary scholars in a major reconsideration of the novelist's relation to the arts. 
Recent Publications
Proulx, François. "Proust's Drawings and the Secret of the "Solitary House"". MLN - Modern Language Notes. 2018, 133(4). 865-890. https://doi.org/10.1353/mln.2018.0058
Proulx, Francois. "Une lettre à Léon Bailby". Bulletin d'informations proustiennes. 2018, (48). 15-23.
Proulx, Francois. "Deux lettres à René Peter". Bulletin d'informations proustiennes. 2017, (47). 37-45.
Proulx, Francois. "P/Reparation: Barthes and Sedgwick". Romance Studies. 2016, 34(3-4). 174-184. https://doi.org/10.1080/02639904.2017.1307640
McDonald, Christie and Francois Proulx "Introduction". and McDonald, Christie Proulx, François (ed.). Proust and the Arts. Cambridge University Press. 2015, 1-8. https://doi.org/10.1017/CBO9781316216408.001