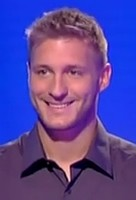 Office Hours
W 12:00 – 1:00 & by appointment
Biography
Julien Berthelon is originally from Mâcon, France. He graduated with a Bachelor's degree in English Language, Literature and Civilization from Université de Bourgogne in Dijon, France. Prior to studying at UIUC, he worked as a Teaching Assistant for a year at Clark University, in Worcester, MA and for another year at Macalester College, in Saint Paul, MN. Since 2015, he has been a Graduate Student and Teaching Assistant in the Department of French & Italian at UIUC. In 2017, he received his M.A. in French Studies and is now a Doctoral Student at UIUC.
Research Interests
19th- and 20th-Century French and Francophone Literature French and Francophone Cinema American Cinema since 1970
Education
M.A, French Studies, University of Illinois at Urbana-Champaign
B.A. English Language, Literature and Civilization, Université de Bourgogne
Awards and Honors
K.A. Looney Award for Excellence in Teaching (Senior Category), University of Illinois, 2019
Teaching Excellence: Fall 2015, Spring 2016, Fall 2016, Spring 2017, Fall 17, Spring 2018
'Honorable Mention', 2018 Graduate Essay Competition in French
Courses Taught
FR 101 - Elementary French I
FR 103 - Intermediate French I
FR 104 - Intermediate French II
FR 211 - Introduction to Literary Studies
FR 212 - Introduction to Cultural Analysis: French Identities
Presentations:
2019: ""What Have We Done to Each Other?": The Violence of Marriage in Mademoiselle Giraud, Ma Femme (1870) and Gone Girl (2014)"
39th Cincinnati Conference on Romance Languages and Literatures. University of Cincinnati.
2016: "Fracture Sociale et Cercle de Violence dans La Haine de Kassovitz" at the Department of French Studies 10th Annual Graduate Student Conference. Louisiana State University.