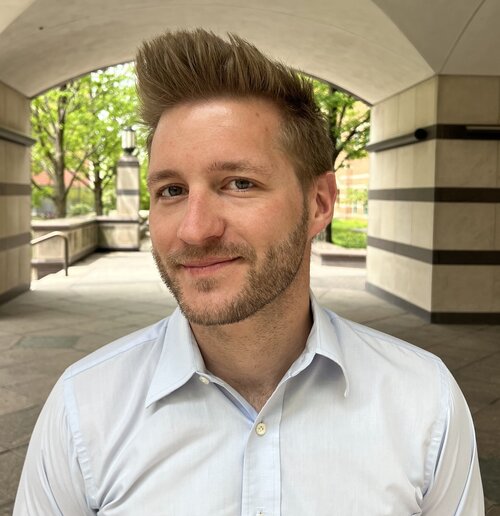 PhD Candidate, 2023-24 SLCL Dissertation Completion Fellow
Biography
Julien Berthelon graduated with a Bachelor's degree in English Language, Literature and Civilization from Université de Bourgogne in Dijon, France. Prior to studying at UIUC, he worked as a Teaching Assistant for a year at Clark University, in Worcester, MA and for another year at Macalester College, in Saint Paul, MN. Since 2015, he has been a Graduate Student and Teaching Assistant in the Department of French & Italian at UIUC. In 2017, he received his M.A. in French Studies and is now a Doctoral Candidate.
Research Interests
20th-century French and Francophone literature
19th-century French literature
French and Francophone cinema
Gender Studies
Research Description
In his dissertation, titled "100 Years of Male Insecurity Through the Figure of the Cheated Husband," Julien analyzes masculinities and concepts, among others, of homosociality and homoeroticism, through the depections of cheated husbands in 19th-century French novels and 20th-century French films.
Education
M.A, French Studies, University of Illinois at Urbana-Champaign
B.A. English Language, Literature and Civilization, Université de Bourgogne
Awards and Honors
Institute of French Cultural Studies Fellow, Dartmouth College, 2019
K.A. Looney Award for Excellence in Teaching (Senior Category), University of Illinois, 2019
Teaching Excellence: Fall 2015, Spring 2016, Fall 2016, Spring 2017, Fall 17, Spring 2018
'Honorable Mention', 2018 Graduate Essay Competition in French
Courses Taught
FR 101 - Elementary French I
FR 102 - Elementary French II
FR 103 - Intermediate French I
FR 104 - Intermediate French II
FR 205 - French in Conversation
FR 211 - Introduction to Literary Studies
FR 212 - Introduction to Cultural Analysis: French Identities
Presentations:
2022: "Un crime d'amour à trois? Transgressive relationships and masculine transactions in Paul Bourget"
47th Annual Nineteenth-Century French Studies Colloquium, New York City: Transatlantics/Transatlantiques
2020: "'Je vais te faire cocu, mon vieux' : Bonding and Disconnecting through Adultery in Maupassant's Bel-Ami" 
Australian Society for French Studies 2020 Conference: Dis/connexion
2019: ""What Have We Done to Each Other?": The Violence of Marriage in Mademoiselle Giraud, Ma Femme (1870) and Gone Girl (2014)"
39th Cincinnati Conference on Romance Languages and Literatures. University of Cincinnati.
2016: "Fracture Sociale et Cercle de Violence dans La Haine de Kassovitz"
Department of French Studies 10th Annual Graduate Student Conference. Louisiana State University.