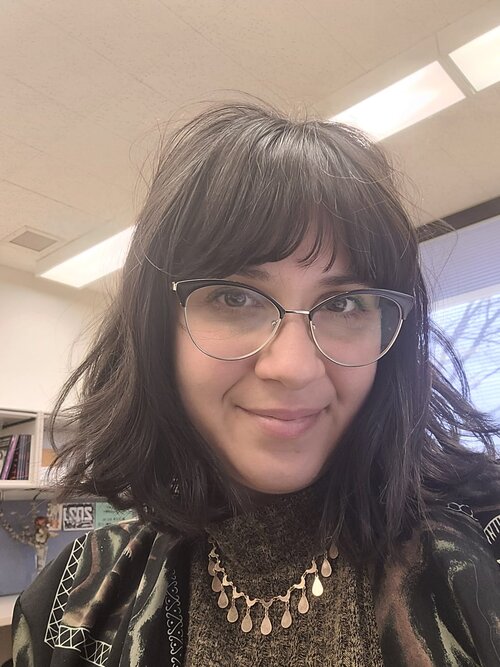 Office Hours
Monday and Tuesday 9-10 am & by appointment
PhD Candidate, Teaching Assistant
Biography
Soraya Cipolla is a PhD Candidate in Italian Studies and Queer Studies. Her research focuses on LGBTQIA+ representation in 20th and 21st Italian literature and cinema. Her dissertation "Queer Spectra: Sapphic Desire in Italian Literature and Cinema (1980 – 2023)" illuminates how gatekeepers of distribution made sapphic narratives ghost-like in Italian culture. Her interests include as well gender identity exploration within contemporary language and literature, gender-inclusive language in the classroom, and inclusive pedagogy.
Research Interests
Italian Contemporary Literature 
Italian Cinema
Queer Women History (20th and 21st centuries)
Queer Theory 
Critical Race Theory
Education
M. A. in Italian Studies, University of Illinois at Urbana-Champaign
M.A. in Linguistics Università degli Studi di Siena, Italy
B. A. in Humanities, Università degli Studi di Catania, Italy
Erasmus scholarship, University of Murcia, Spain
Awards and Honors
Center for Innovation in Teaching and Learning's (CITL) Teachers Ranked as Excellent by their Students in Fall 2017, Spring 2018, Fall 2019, Spring 2020, Spring 2021, and Spring 2022. 
Department of French & Italian Senior Award for Excellence in Teaching in Italian Spring 2022
American Association for Italian Studies Conference Graduate Students Travel Grant
Courses Taught
ITAL 101: Elementary Italian I
ITAL 102: Elementary Italian II
ITAL 103: Intermediate Italian I
IFLIP Beginner Italian
IFLIP Intermediate Italian
Additional Campus Affiliations
Gender and Women Studies
Unit for Criticism