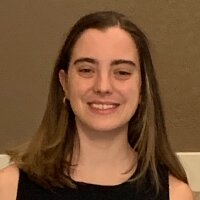 Contact Information
Foreign Language Building #2112 or email for Zoom link.
Office Hours
Fall 2022: Tuesdays & Thursdays 10:00 - 11:00 am in person & via Zoom.
Research Areas
PhD Student, Graduate Teaching Assistant
Biography
Julia Gorham is a second-year Ph.D. student in French SLATE. She earned her MA in French Linguistics and Second Language Acquisition and Teaching from the University of Arizona in 2020 and double BAs in French/Francophone Studies and Chemistry from the University of South Dakota in 2018. Her research interests lie in the field of applied linguistics and include multiliteracies and critical literacies pedagogy, curriculum development, intercultural and symbolic competence, program evaluation, and teacher education.
Research Interests
Second Language Acquisition and Pedagogy 

Multiliteracies and Critical Literacies Pedagogy

Second Language Curriculum Development

Intercultural Competence

Symbolic Competence 

Second Language Assessment 

Program Evaluation
Education
PhD - French / Second Language Acquisition and Teacher Education, University of Illinois at Urbana-Champaign (in progress)

M.A. - French Linguistics and Second Language Learning, University of Arizona, 2020

B.A. - French & Francophone Studies, University of South Dakota, 2018

B.S. - Chemistry, University of South Dakota, 2018
Courses Taught
UIUC:
FR 101 - Introductory French I 

FR 103 - Intermediate French I

FR 207 - Grammar & Composition 
Other Teaching Experience:
College French 1, 2, 3, & 4

Upper-level French Composition & Grammar

Upper-level French Conversation & Pronunciation 

High School French 1 & 2
Selected Conference Presentations:
Amgott, N., & Gorham, J. (2021, 10 Apr). "Embodying Language Learning: L2 French Rehearsal, Repair, and Community". Annual Meeting of the American Educational Research Association, Virtual.
Gorham, J. (2020, 14 Nov). "Decolonizing intermediate French: A multimodal critical literacies perspective to questioning colonization, racism, and prejudice". Diversity, Decolonization, and the French Curriculum Conference, Virtual.
Gorham, J. (2020, 27 Sep). "Evaluating critical literacies and symbolic competence in L2 multimodal compositions". L2 Digital Literacies Symposium, Virtual.
Gorham, J. (2020, 17 Apr). "Expanding multiliteracies in the L2 classroom: An intermediate French case study". Kentucky Foreign Language Conference, Lexington, KY. [cancelled due to Covid-19]
Gorham, J. (2020, 29 Mar). "Towards a coding system for measuring symbolic competence in the L2 classroom". Annual Conference of the American Associate for Applied Linguistics (AAAL). Denver, CO. [postponed due to Covid-19]
Gorham, J. (2020, 25 Jan). "Tracing L2 French students' intercultural and symbolic competences through film". 7th International Conference on the Development and Assessment of Intercultural Competence, Tucson, AZ.
Gorham, J. (2019, 26 Oct). "A multiliteracies-based curriculum project for tracing L2 French students' development of symbolic competence through film". 13th Annual Meeting of the Arizona Linguistics Circle, Tucson, AZ.
Gorham, J. (2019, 8 Feb). "Developing symbolic competence in introductory level French classes through authentic Francophone literature", Second Language Acquisition and Teaching Interdisciplinary Roundtable, Tucson, AZ.
Gorham, J. (2018, 26 Mar). "Educational inequality in the US and in France: The effects of residential segregation", 6th Annual University of South Dakota Modern Languages Undergraduate Research Conference, Vermillion, SD.
Recent Publications
MA Thesis (Spring 2020) – Un bilan de la compétence symbolique chez les apprenants du français langue seconde – University of Arizona
Gorham, J., & Knisely, K. (2019). Systems in need of activism: Considering the effects of segregation and policy on French and U.S. primary and secondary education. Journal of the Midwest Modern Language Association, 51(2), 183-222.