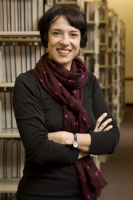 Research Description
I specialize in the literature and culture of the Middle Ages and Early Modern period, with concentrations on epic and romance, Early Modern travel narratives, Medieval and Renaissance conduct texts, gender studies, and animal studies. I work comparatively across different geographic areas of the Mediterranean, including Italy, Provence, France, Spain, and Catalonia. I have published articles on Boccaccio, Dante, Ariosto, Tasso, the Italian epic tradition, and medieval conduct literature. My book, Genealogies of Fiction: Women Warriors and the Dynastic Imagination in the Orlando furioso appeared in 2011 with Fordham University Press, and it is a study of the intersections of epic, gender, and genealogy in Ludovico Ariosto. I am currently working on a book on animals, education and contagion in medieval and early modern literature
Education
Ph.D., Italian Studies and Medieval Studies, University of California, Berkeley
M.A., Romance Languages, University of Oregon.
Graduate Studies in Romance Philology, Universitat de Barcelona, Spain.
Laurea (B.A. equiv.), Romance Philology, Università degli Studi di Pavia, Italy.
Additional Campus Affiliations
Director, Program in Medieval Studies
Associate Professor, Unit for Criticism and Interpretive Theory
Associate Professor, Comparative and World Literature
Associate Professor, Program in Medieval Studies

Recent Publications
Stoppino, Eleonora. "Ariosto's genealogies". MLN - Modern Language Notes. 2018, 133(1). 32-47. https://doi.org/10.1353/mln.2018.0004
Stoppino, Eleonora "Un compagno di viaggio del primo Furioso: alcune osservazioni sul Rugino di Pierfrancesco de' Conti". Zampese, Cristina (editors). Di donne e cavallier: intorno al primo Furioso. Biblioteca di Carte Romanze. Ledizioni. 2018, 181-195.
Stoppino, Eleonora. "Boccaccio mediatore: narrazioni amazzoniche tra cantare e poema". Critica del Testo. 2016, 19(2). 233-246. https://doi.org/10.23744/1027
Stoppino, Eleonora. "Dischronic Mediterranean: Space and Time Negotiations in Ariosto's Comedies". Illinois Classical Studies. 2015, 40(2). 391-405.
Stoppino, Eleonora. "Contamination, contagion and the animal function in Boccaccio's Decameron". Critica del Testo. 2014, 17(3). 93-114. https://doi.org/10.1400/233093