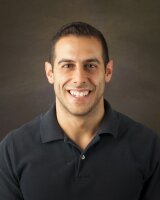 Office Hours
*Spring 2023: Sign up via Calendly in bio description*
Research Areas
Assistant Professor, Undergraduate Advisor for French
Research Interests
Critical Masculinity Studies / Men's Studies
Queer Maghreb
HIV/AIDS Literature and Cinema
Race, Sexuality, Citizenship
Translation studies/Translation theory
Discourse analysis 
Research Description
My research is informed by intersection of gender and sexuality in Francophone communities primarily in North Africa and the Levant. I am interested in expression of sexual identity and citizenship and how individuals navigate these issues in relationship to society and familial structures.
A second, and equally as important axe of research interests, is in HIV/AIDS studies in France.  I investigate and chronicle France's literary and cultural response to HIV/AIDS from the late 80's through today, primarily how the depiction of masculinity has evolved in this literature over the last twenty-five years.  I recently co-edited a special issue on this topic with Contemporary French Civilization. 
Both of these research avenues are tied together by a concept of queer kinship that I hope to further develop soon.
Additionally, I am currently the Assistant Editor for Contemporary French Civilization an academic journal dedicated to studying all aspects of culture and civilization in the French and Francophone worlds as well as serving in the Steering Committee for the DDFC Collective.
For advising meetings, please schedule here.
Education
Ph.D. French, University of Illinois at Urbana-Champaign
Additional Campus Affiliations
Program in Translation and Interpretation
Gender and Women's Studies 
selected publications
"Agency, culpability, and police brutality: French reports of death during

les contrôles policiers." 

Contemporary French Civilization, Vol. 47.4, 2022. (

The 10th Lawrence R. Schemer Memorial Award Winning Essay)

"Transcendence and Immanence in Michel Houellebecq's Les Particules élémentaires." Simone de Beauvoir Studies, Vol. 32.2, 2022.
"Subjectivity and Seropositivity: Retranslating Guillaume Dustan." Essays in French Literature and Culture, Vol 59, 2022.
"Decanonizing Contemporary Culture Courses: Teaching Culture with Twitter" Diversity and Decolonization in French Studies. Palgrave, 2022.
"Kindling Kindships: Sexual Citizenship and Queer Constructions of Masculinity in the Works of Erik Rémès" Revisiting HIV/AIDs in French Culture: Raw Matters. Lexington Books, 2022.
"Marginal Masculinities: Disidentifying Sexual Performativity Across Abdellah Taïa's Novels" Abdellah Taïa's Queer Migrations: Non-places, Affect, and Temporalities. Lexington Books, 2021.
"Forty years of HIV/AIDS narratives. What's next?" Contemporary French Civilization 46.2
Works of Guillaume Dustan, (translator) Semiotexte 2021. 
"Comment échapper à la honte du zamel."

@nalyses: Revue de Critque et de Théorie Littéraire 

11.3 (2016)