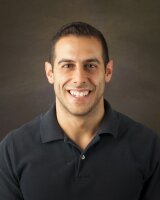 Office Hours
By appointment (see link)
Research Areas
Director of Undergraduate Studies and Undergraduate Advisor for French
Research Interests
Critical Masculinity Studies / Men's Studies
Queer Maghreb
HIV/AIDS Literature and Cinema
Research Description
My research is informed by intersection of gender and sexuality with Francophone communities primarily in North Africa and the Levant. I am interested in expression of sexual identity and citizenship and how protagonists navigate these issues in relationship to their family and their society.
A second axe of reserach interests is in HIV/AIDS studies in France.  I investigate and chronicle France's literary response to HIV/AIDS from the late 80's until today, primarily how the depiction of masculinity has evolved in this literature over the last twenty-five years.  I recently co-edited a special issue on this topic with Contemporary French Civilization. 
Additionally, I am currently the Assistant Editor for Contemporary French Civilization an academic journal dedicated to studying all aspects of culture and civilization in the French and Francophone worlds.
For advising meetings for French or Study Abroad, please schedule here.
Education
Ph.D. French, University of Illinois at Urbana-Champaign