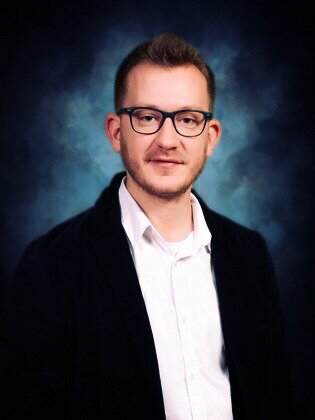 Office Hours
Monday to Friday, 9-5, By appointment
Ph.D. Candidate
School of Literatures, Cultures, and Linguistics Fellow (2021-22)
Biography
Nicolas Portugal is originally from Arras, France.
He received his B.A. in Anglo-American literatures, cultures, and languages from the Université d'Artois, France, and his M.A. in American literature(s) from the Université de Lille, France.
As a Ph.D. Candidate in French studies, he examines the representations of terrorism in contemporary French fiction.
Research Interests
20th and 21st-century French literature(s) and culture(s)
Cultural studies (French and American cross-cultural relations)
Urban studies
Trauma studies, Memory studies, Terrorism studies
Environmental studies,  Ecocriticism
Ethics of Care studies
Education
P.h.D. in French Literature and Culture, University of Illinois at Urbana-Champaign. (expected May 2022)
M.A. in Anglo-American Literatures and Cultures, Université Charle de Gaulle, Lille, France.
B.A. in Anglo-American Literatures and Cultures, Université d'Artois, Arras, France.
Study Abroad: University College of Dublin, Ireland.
Grants
Departmental K.A. Looney Awards for Teaching Excellence, 2020.
Knudson Fellowship, Summer 2021. 
SLCL Dissertation Completion Fellowship, 2021-2022.
Graduate College Mentoring Certificate, 2022.
Courses Taught
FR 101: Elementary French I 
FR 102: Elementary French II 
FR 103: Intermediate French I
FR 104: Intermediate French II 
FR 205: Oral French (advanced) 
FR 207: Writing and Grammar Workshop (advanced) 
IFLIP (Intensive Foreign Language Instruction Program) - French for beginners 
IFLIP - Advanced French
Additional Campus Affiliations
European Union Center
Unit for Criticism and Interpretive Theory
PRESENTATIONS
2021. "From 'Nous sommes tous Américains' to '#JeSuisCharlie': (Re)shaping communities through transnational and affective networks in the wake of a terrorist attack" Symposium on How Does Culture Move? Mobility and Stasis in Global Cultural History, University of Illinois at Urbana-Champaign.
2021.  "(Dé)Connexions et contrôle du réel : La fiction au service de l'image manquante dans Par les écrans du monde de Fanny Taillandier." Online Conference of French and Francophone studies. University of Louisiana at Lafayette & CNRS-Université Paris 3.
2020. "La littérature française à l'aune du 11 septembre 2001." University of Louisiana at Lafayette.
2019: "« Zone de libre-échange » : Imaginer l'acte terroriste par la pratique du sexe dans Partouz de Yann Moix." Cincinnati Conference on Romance Languages and Literatures. University of Ohio, Cincinnati.
2018: "Trahison de classe par la sexualité? Parcours d'une double-oppression dans Retour à Reims de Didier Eribon et En finir avec Eddy Bellegueule d'Edouard Louis." New York University, Institute of French Studies.